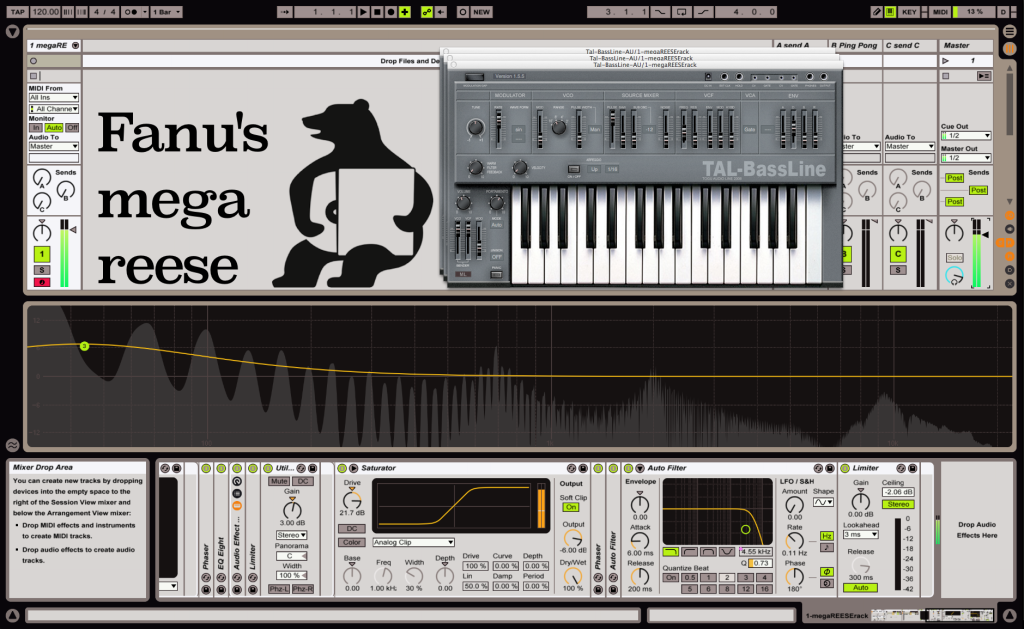 I wanted to have a quick go at trying to create the classic "Reese" bass so widely used in and popularised by drum and bass (if you don't know what I'm talking about, check out this classic DNB tune for a classic example).
The bassline could be created using any synth capable of doing sawtooths, but I happened to create it while playing with "Bassline" plug-in synth by TAL. It's completely free! Grab my rack to get busy with Reese bass action – you can go for either VST or AU version.
Download AU rack
Download VST rack
Also download Bassline by TAL.
I think it sounds the baddest and bassets between C0 and C1 but you figure out what you like the best.
I could explain how I did the rack, but I think the best way for you is to download the instrument rack and figure it out yourself; honestly, it's fairly simple, and in addition to the Bassline synth, it only makes use of some Ableton Live's effects and its chains.
If you're not familiar with Live's chains, now's a good time to figure them out, and I'm confident you can do that by downloading the instrument rack and investigating its structure a little bit. This'll be of great use to you in the future in case this technique is something you're not familiar with.
And, hell, even if you don't want to learn, you'll get a decent bass synth.
The rack features a few macro controls that allow you to shape the sound a bit thru the phaser effects in the chain. There's two chains: "the angry stuff" with no sub (I cut the subs off because two detuned saws will drift in and out so the sub comes and goes) and a sub chain with a low-passed instance of Bassline doing a pulse waveform.
If you have anything to ask (do yourself a favour and try and figure it out yourself, as sometimes that's a really good way to learn, especially when it comes to music production, and I mean it!), I'll be glad to help you. Just ask me on my music production page or email: fanusamurai@gmail.com
Also, check the Ableton Live lesson text hack I recently did.
If you feel like it, follow me on some social media; relevant links are below.
Also, I'm glad to let you know I'll soon start giving Ableton Live tuition thru Skype. If that's something you're interested in, drop me an email: fanusamurai@gmail.com