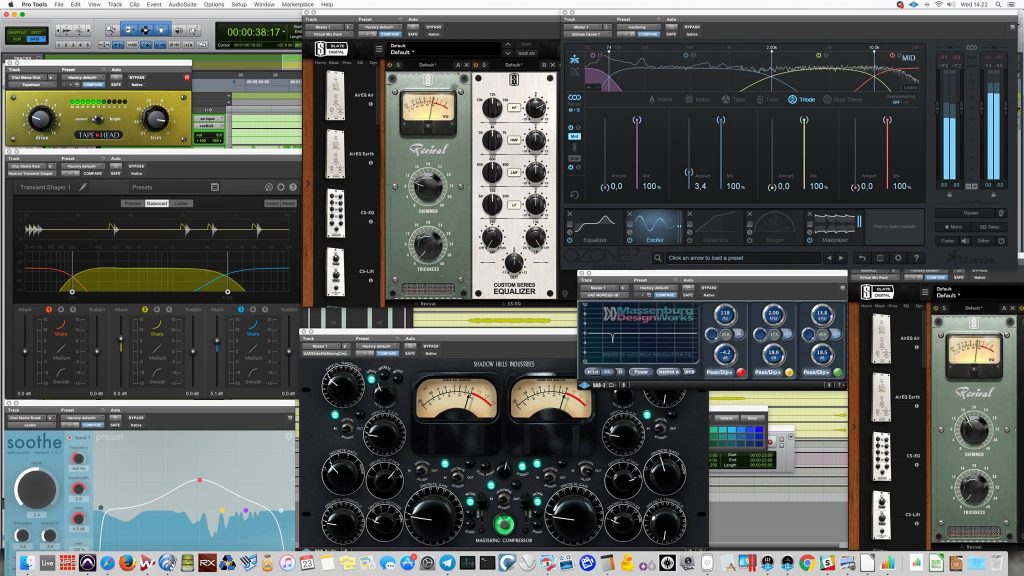 Tools of the trade from a mixing + mastering project from tracks for a client tackled (drum and bass).
Some trusted plugins here:
• Massey Tapehead is my favorite "beef-it-up-izer"…use it on wimpy drumsounds every time to give them a bit of girth. Also great in reducing excessive highs.
• iZotope Neutron transient designer is unbeatable in shaping the "shape" and tone of a drumsound…make it snappier or less so, brighter, longer, etc…love it.
• Oeksound Soothe is my number one tool in taming harsh resonances. And it makes it so dang easy for you. Use it on vox, harsh drums, sax, guitars…everything. Love the Delta mode, so you can hear exactly what you're taking out.
• Slate Digital LLC goodies are all honey for the ears. I could not do without Revival, which is the best high exciter there is. Definitely the sound of crisp contemporary electronic music right there. Love the EQs, too, and I often high-shelf things with the Custom EQ, which sounds really dope.
• Universal Audio Shadow Hills mastering compressor is my fave master leveler; great for keeping level in check if there's a section in a song that gets a bit too loud, for example.
• Izotope Ozone 7. The Swiss army knife of mastering. I find its low exciter indispensable. Definitely helps you to take a step away from the digital thinness to a warmer, fuller tone. Do not overlook low-mid exciter…it's often what separates a thin mix from a full one. Touch it a bit on every mix/master. Also love its limiter. If it doesn't do the job, you know it's your mix to blame. I find its IRC III mode the best, and I don't use the other modes.
• UAD Massenburg is always on the master, carving out some excess crud in low mids.
I do use other tools, but here's a few of the ones I use in every project, be it a mix or a master for a client – or my own song.
Book your mixing/mastering today: email fanusamurai@gmail.com, and let's take your sound where it needs to be.