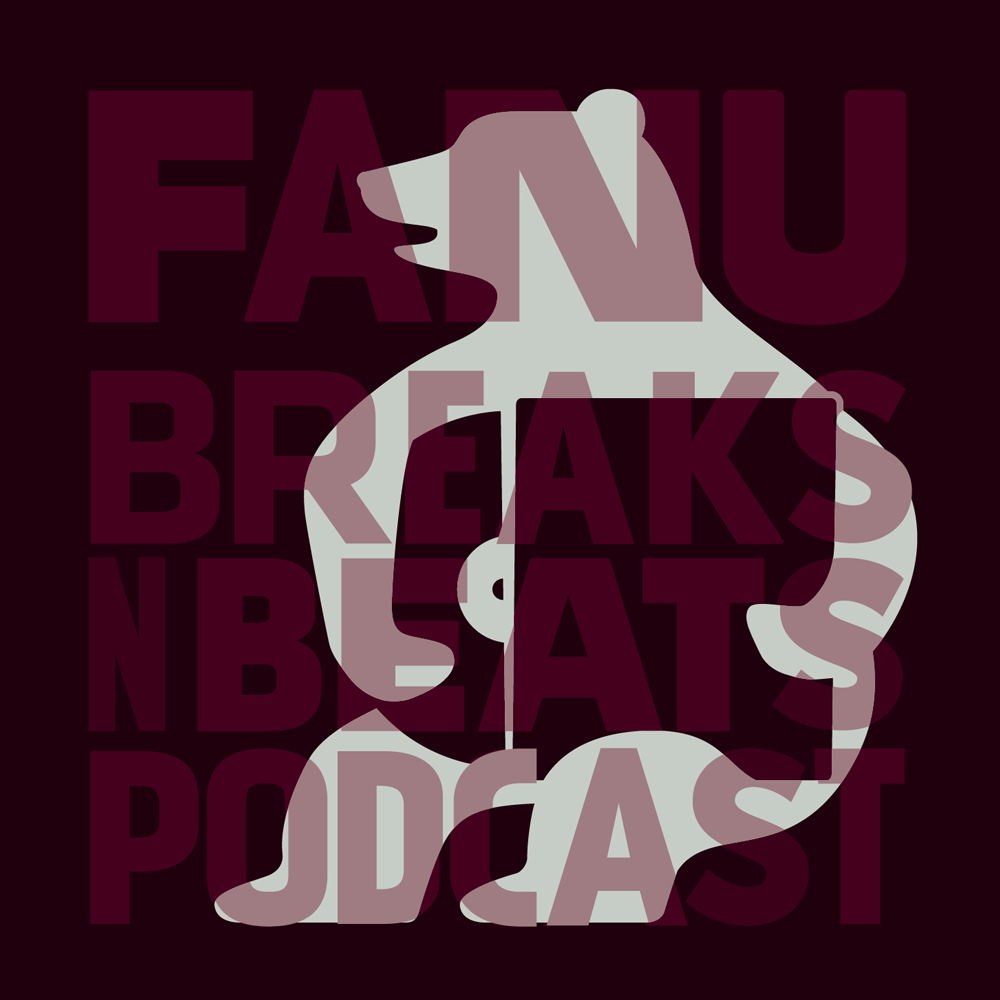 (there's also a streaming player at the bottom of the post, and podcast should be found on iTunes shortly, too)
So here we are with brand spanking new episode of the Breaks 'N' Beats Podcast series!
As I kicked it off two months ago, it was my plan to do this every two months or so, so recently I started getting the itch to record a mix, and this is the result.
At this point I also want to say that I'm super hyped about how well the first episode was received, so thanks to all for that.
I'm eager to continue the series, so here we go! (also don't miss the little merch giveaway this time, which is at the bottom of the post)
As I said, the main focus will be on drum and bass as that is my main love, but there will be other stuff coming, and the next episode or two will be about downtempo and hiphop.
This time, there's both old and new dnb, just as I always do. I might also add that this is the kind of stuff that I also play out as a DJ and this could well be a set I'd play at a dnb event.
I'm also happier than ever about the fact that this sort of stuff does work on the dancefloor. Every now and then there's debate over that but I think the "dnb climate" of today is now so open that every time I happen to play out, whatever I play is always well received.
Now, I'll just cut to the chase, and, as I want to do each time, I'll write little descriptions and thoughts about why I happened to pick each track for the mix.
1. Fistfunk – Do It Right (Lightless dub)
Again, I happened to kick off with some Fistfunkery. IMHO, he is one of the most original dnb artists out there. Fistfunk is capable of doing a lot of soulful stuff (you should hear some stuff he's holding) as well as some utter sickness, as was demonstrated by the Fistfunk EP on Lightless.
I'm also more than happy to announce that Fistfunk is working on a full-length album for Lightless – and there will be vinyl.
2. Fallen Angels feat. Loletta Holloway – Rapier (Sirkus)
A few years ago, a friend of mine (big up, Martti!) played this for me and I was hooked! This is pretty damn dope stuff, and I swear I've never heard anyone play this anywhere.
This is groovy shit. Get it; I bet you can find the CD / LP online. There's also a 12″ of this track.
3. Fracture – Gangbusters (Metalheadz)
I'm well happy to see Frax on Headz. Well deserved. It's been interesting to see Fracture move from more breaky stuff to the more juke-influenced beats, and this stuff goes down like a bomb. This is also a track will fit anywhere in a mix, allowing to take your set in any direction you want to go.
A nice little memory to add here is that very recently I was playing at an open-air festival in Russia, where they played music non-stop – literally. I went to sleep (in a tent not so far from a proper Funktion One soundsystem!) around 4, got up around 8:30, and they were still playing dnb, and I heard the DJ drop this one. Hearing it in the middle of a forest while having the sun shine on your face was a nice moment.
4. Black Science Labs – Hypnotic (Certificate 18)
Good old Teebee with his techier stuff. Grand, just grand. Also, the award of the best intro that transforms to something entirely different goes to this tune. You can find it on the net, so check it in its entirety if you can to appreciate it in all its glory.
5. Rufige Kru – Vanilla VIP (Metalheadz)
A free download from the Metalheadz site. Get it! Has the same pad sound as Adam F's "Metropolis", which got my attention in the first place.
I know this is super geeky, but I'm a total sample nerd, and hearing the pad sound kind of rubbed me the wrong way the first time I heard "Vanilla VIP" but I guess if there's any label that can do it, it's Metalheadz, after all, who released the original Metropolis. Another track that works on the floor.
6. Eastcolors – Watch Out [Enei remix] (Symmetry)
Coming across this track was a coincidence. Was browsing some Symmetry tracks online and found this. Gotta dig it.
7. Pulse – Stay Calm [Equinox remix] (Creative Wax)
Equinox doing another amen workout, retouching an old classic, definitely paying respect to the original.
If this doesn't get the dancefloor going, you're playing for the wrong crowd.
8. Fracture & Neptune – Colemanism (Outsider)
This is from the days when "drumfunk" was definitely going through a revival movement in a way. Brings back memories from 2004–2005 when certain producers – such as F&N and yours truly – were hell-bent on chopping beats and making shitloads of "choppage" tunes. But this is one of the best that came out of that era. Guys sampled as much from the original amen song as they could, doing something that no-one (afaik) had done before that. Respect is due here.
9. Goreteks – Nha Trang
I'm not sure if this one ever came out, but at least you can get some other tracks by Goreteks here for free, and they're equally dope and remind me of Source Direct quite a bit, which is always a good thing. Bigglesworth.
EDIT: Forthcoming on Criminal Records Digital.
10. Paradox – Scorpius (Samurai Music)
The dnb breaks don flexing the classic "Scorpio" break (by Dennis Coffey) in a way that hasn't been done before. Released on Samurai Music, both vinyl and digital.
What else needs to be said? You know it's by Paradox, so you know it's hella legit. Cop it.
11. Break – They're Wrong (Symmetry)
I've been playing this one a lot. I like the sort of happy vibe. The production is big. It's the sort of track that you can play so damn loud and it doesn't really kill your ears the a lot of modern "speaker-test" dnb tends to do. This one is for the summer nights.
12. Personelle – Rebound (LME Records)
Now here's an old classic I keep forgetting. I recently heard it again on Science HKI's radio show and had to pull it out myself. This is one of those dnb tracks that never end – in a good meaning – and which you don't want to mix out of too soon as you want to appreciate the good subtle groove and the beauty of the vibe. Another such track is Seba & LoTek's "So Long".
13. Fracture – Clissold [Machinedrum remix] (Astrophonica)
Dope, dope. Also, the award of the best pre-drop sample ("Roll that shit up!") goes to this one.
14. Fanu – Hop And Bass (Lightless dub)
Here's an unreleased track by yours truly, dnb half-tempo / hiphop hybrid. Will be on one of the two albums that are being worked on at the moment.
15. Fanu – Unia (Lightless)
A track from the "Daylightless" album where I wanted to do something a little different in terms of rhythm and keep it all kind of dark and cold.
Also, christ, at least I learned as I was in the mix that this did not match with the track before this one as the beats, which were so different, really didn't go well together. I always have the biggest problems mixing my own songs. Go figure.
16. Stray – Follow You Around (Blu Mar Ten)
Wanted to wrap up the mix with something beautiful that kind of transcends d&b, and this is the very perfect choice for it. I can't describe this – it's beautiful. Listen to it and enjoy.
And now, as I said there'd be a little giveaway, let's check that out.
A good friend of mine liked the bear logo (which was recently launched as the Fanu artist logo) and being kind as she is, she made me a few keyrings and magnets in the shape of the bear.
I was really surprised by that and grateful for the kind act. I want to pay forward the good deed, and I'll be giving out ten keyrings to those who dig them and believe in good beats.
To take part in the giveaway, just leave a Facebook comment in the space below this post and let me know why you should get one of those bears, and I'll decide the winners later and send the goodies out.
Now, I've said enough – you, get busy with the beats and enjoy life!